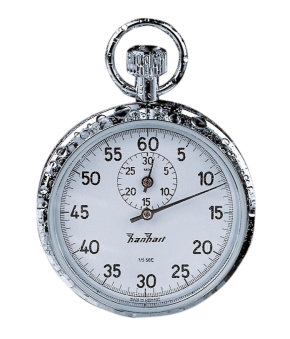 115.0104-0S Robust 100
Kotva, 7 kamenů
1/5 Sek. 30 Min.
Plášť Ø 55 mm, Váha 135 g
Minerální sklo, kovová korunka 
115.0104-0S Robust 100
Crown stopper
"Robust 100"
Precision mechanics with mineral
glass and metal crown.
With this special model, Hanhart
has taken account of the requirements
of industry and craftsmen.
The glass parts are resistant to
scratching and acid. The metal
crown is extremely resistant to
solvents and thinners.
Especially suitable for use in the
chemical industry, paint workshops
or photographic laboratories.
"Big 1/10sec."
A particular speciality of Hanhart
precision mechanics is the stopwatch
with large-scale 1/10sec.
gradation.
"Pulse/breathing rate"
Specially for measuring pulse and
breathing rate. Based on 15 pulse
beats or 5 breaths.
"Tachy/Telemeter"
This stopwatch with its special
tachy- and telemeter scales is ideal
for accurate speed control.
Outer scale: Tachymeter, speedometer
Measuring distance: 200 m
Middle scale: 1/5sec. gradation
Inner scale: Telemeter,
                      noise level
                      meter
                      up to 20 km
Calibration
See description